Welcome to the Refreshed WellCents Dashboard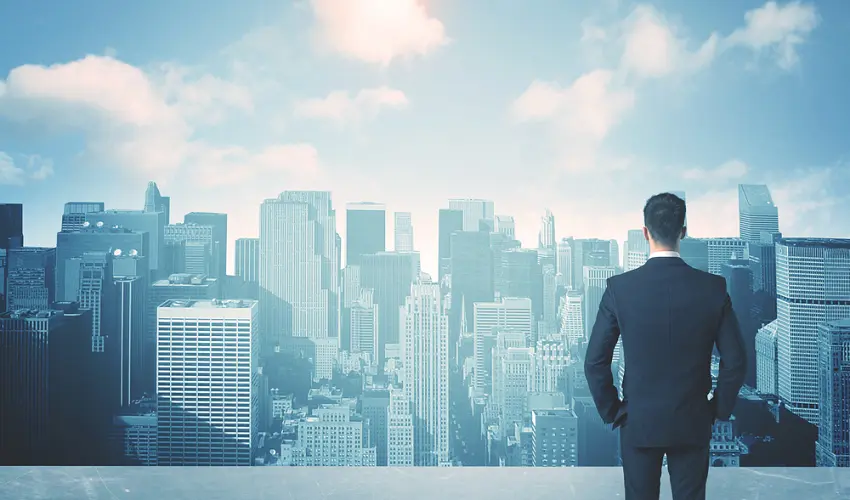 RPAG wants to make sure you have the necessary tools and capabilities for your business. Our team is dedicated to helping you succeed. That's why we refreshed our WellCents dashboard. This update will make your WellCents even more streamlined and efficient saving you time to grow your business.
What Changed?
Once logged onto RPAGs advisor portal, head over to to the Employee WellCents Dashboard under a client that you desire.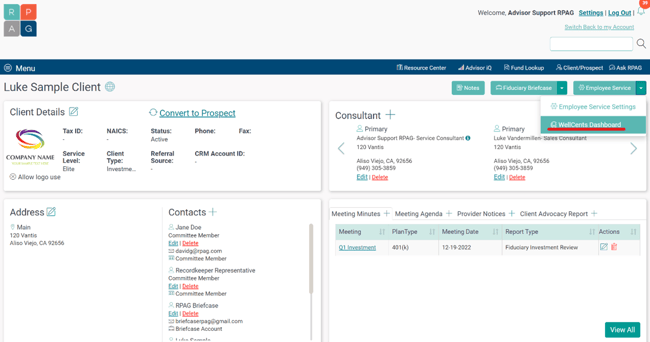 The newly improved WellCents Dashboard is a similar view to the Advisor IQ. This dashboard is an efficient and effortless way to graphically see the status of each one of your clients' WellCents utilizations and engagements. The graph illustrates number of assessments completed, meetings and attendees, number of clients you have signed up, and much more.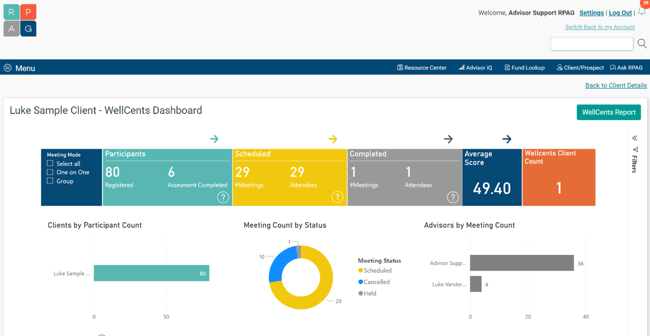 While staying on the same page, simply scroll down to the Meetings section. Under the Actions column you now have the option to archive meetings. By archiving meetings, you are essentially hiding them to keep record rather than permanently deleting. This feature allows you to clean up your home page by getting rid of clutter.
In the Recent Activity section, you are now able to sort by activity. By clicking on the Activity dropdown, you will notice a series of options to filter from. These include Assessment Updated, New Participant, and Took Assessment.

Additionally, to view the WellCents scheduling enhancements, click into a meeting then Advice Meeting Planner. In both the Individual Dates and Date Range, years have been added. This feature allows you to view meetings that you've had along with meetings you plan to have.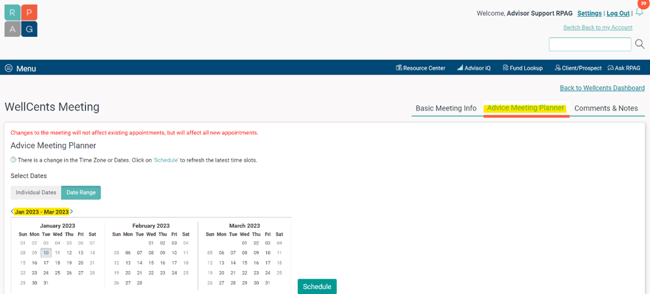 Within the updated WellCents Report you now have the ability to conduct a point(s) in time review. This feature helps to compare how your engagement is increasing, how scores were improved, etc.

________________________________________
Looking for more information?
Contact the RPAG Support Team at support@rpag.com to learn more about RPAG and get help with our platform, suite of services, next-gen technology, or anything else!
Not an RPAG Member?